Coffee trends and developments at the Møller Institute
Quality and flavour were the two most important coffee attributes identified by consumers in a recent survey by The Caterer Magazine and Nespresso.* This was re-assuring news for the Møller Food and Beverage team who served around 150,000 cups of coffee in 2016 – that's 1.1 tonnes of coffee beans. The team have, since the 1990's, long before the UK's 'café culture' developed, worked tirelessly to ensure delegates at the Møller Institute experience the finest blends of quality coffee from state of the art coffee machines.
We take a quick look at recent coffee-related developments and trends at the Møller Institute.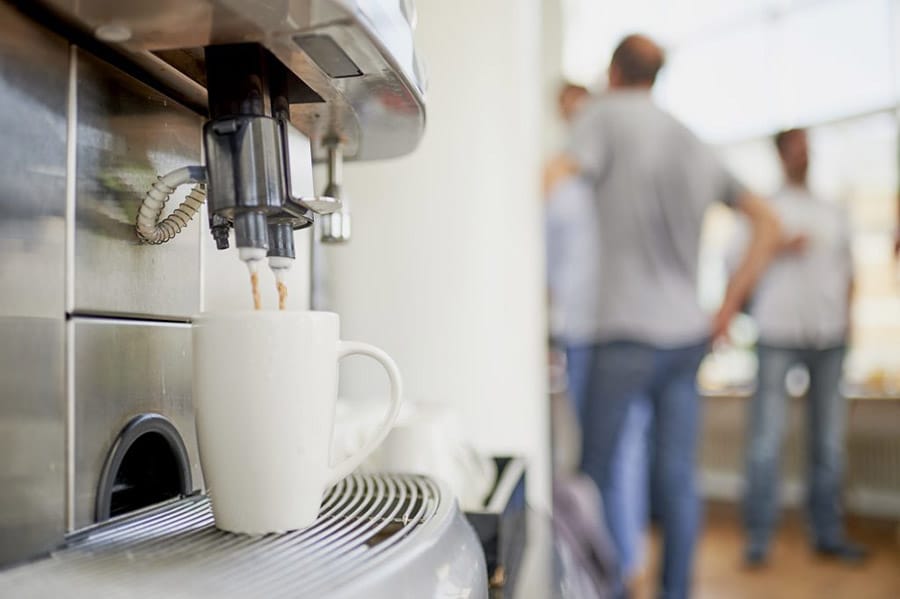 Beans
We regularly run trials on new coffee beans with staff and clients and are currently trialling a new Italia bean in the Main Building, which has a more rounded flavour at 70% Arabica and 30% Robusta. This typically will mean the drink is sweeter because of less caffeine and Arabica has more lipids (sugar) than Robusta. If you're at the Centre, or even just passing, please have a try and give us your feedback.
Machines
We are constantly striving for our coffee to be of the best quality, this is why we regularly maintain our coffee machines and recently invested significantly in an upgrade of all the machines in the Study Centre, "they're quicker too which helps with waiting times and gives delegates more time to network and socialise" explains Jason Middleton, Food and Beverage Manager.
Fresh milk rather than powder
A noticeable finding from The Caterer survey showed the most popular type of coffee to be a latte. The Møller Centre has only ever had coffee machines that dispense fresh milk. Jason explains why, "Using fresh milk is really important from a quality standpoint – we are continuously reviewing and improving our offerings to ensure they're the best they can be. The taste of coffee with powdered milk is incomparable to coffee with fresh milk".
Personalised coffee
A current trend is to personalise coffees with syrups and flavours. All our coffee stations have at least two Monin® syrups available, ranging from vanilla to hazelnut, meaning guests can customise their coffees as they please. Also, soy or alternative milks can be provided on request, meaning those with allergies don't miss out.
Caffeine free
Many people are making consciously healthier life choices, including drinking natural or decaffeinated drinks. We have always wanted to make sure we provide options for those who cannot or do not want to drink coffee or caffeinated drinks. As well as offering decaffeinated bean coffee, we provide a range of Clipper® natural drinks such as chamomile, peppermint tea, lemon and ginger, wild berry, green tea and Earl Grey.
Can coffee improve your well-being?
Taking regular breaks and having a change of scenery is vital for concentration, stress reduction and general well-being. Many of our clients take advantage of the beautiful grounds of Churchill College in which the Institute is situated and take their hot drink outside on a walk to get some fresh air and change of scenery. Our General Manager is a strong advocate for getting a stimulating change of scenery at lunch and on breaks.
Outside your coffee comfort zone?
Why not challenge yourself to move outside your coffee comfort zone and try out the different varieties of coffees our machines can make – maybe you'll find your new favourite coffee.
* The Caterer magazine, 10 February 2017, pp.34-6.