Professor Archie Howie – Former Head of the pioneering and world renowned Cavendish Laboratory, 1989-1997, and one of the Founding Fellows of Churchill College.
An inspiration
Cavendish Professors – In my presentations to senior leaders on Møller Executive Education programmes, the achievements of the eight Cavendish Professors who have led this distinguished laboratory are a special feature. They were all appointed because of their personal stellar contributions to physics research, but were then able successfully to address wider issues of teaching, research team building and leadership, design of new buildings, finance and fundraising.
W.L. Bragg, the famous crystallographer, was a surprise appointment to succeed Lord Rutherford who had made the Cavendish the world leader in nuclear physics. Bragg boldly abandoned nuclear physics and pioneered new fields including radio-astronomy, electron microscopy and crystallography, where discovering the structure of DNA was a particular triumph.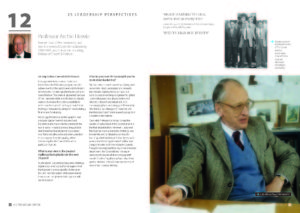 What in your view is the greatest challenge facing leaders in the next 25 years?
Sustainability is an obvious long-term challenge at planetary level. Successful management of Brexit presents a more specific challenge to the UK University system. Unforeseen events however are the greatest challenge and will certainly occur!
What in your own life has taught you the most about leadership?
My Cavendish research career had a flying start under Peter Hirsch, an inspirational research team leader. Copying his style, I have had some success in winning recognition for gifted junior colleagues through promotion and prizes but showed less natural ability in encouraging those who struggled. Fortunately Mick Brown, my colleague for many years in the Microstructural Physics research group, had complementary talents.
Cavendish Professors no longer accept the burden of being Head of the Cavendish and in the final decade before retirement I assumed this duty. My main unexpected challenge was to maintain central laboratory services for teaching, administration and blue sky research when annual funding of nearly £1million was abruptly transferred to the Research Councils. Though more exposed than any other University department, the Cavendish led the way in balancing the books while keeping up staff morale. Scottish frugality may have played too great a role here – I should have spent more of our money in pump priming! "Brace yourself to deal with the unexpected" carries less succinctly, but without the sexist overtones, the gist of Macmillan's quote: "Events, dear boy, events!"
This is one of 25 Leadership Perspectives in a book published by the Møller Centre to mark its 25th anniversary year entitled Leadership Perspectives. The book, which you can download here, features 25 leaders talking candidly about what they believe to be the greatest challenges facing leaders over the next 25 years.