Danish Ambassador to the United Kingdom, 2013-2017, and previously Danish Ambassador to the European Union in Brussels.
An inspiration
Mærsk Mc-Kinney Møller – Since I was a very young diplomat in the Danish Ministry of Foreign Affairs, Mr Mærsk Mc-Kinney Møller followed my career from a distance and with care. Later I had the opportunity to get to know him better both professionally and in private. His great attention to timing, detail and personal networking was a great inspiration for me and taught me that true leadership comes through your own actions, not just management of others.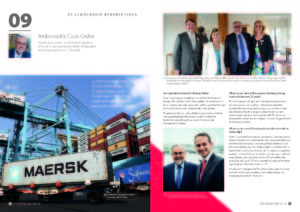 What in your view is the greatest challenge facing leaders in the next 25 years?
The technological changes and their impact not just on our work, but also on our societies and interaction between peoples. We have recognised changes can come faster than expected; be ready for change and learn to use the new technological opportunities to your benefit. This is not just important for companies and organisations, but for government and society as a whole.
What in your own life has taught you the most about leadership?
I have always tried not to repeat the mistakes I saw my previous senior managers make. One had the idea that you should know everything and be ready to answer questions relating to your job responsibilities any time of day or night. I considered that a waste of time. So the day I took up my first senior management position I told my PA to get a number of plastic bags and throw away all papers and documents in my office. Horrified, she asked why and I said – "if there is something important in there, somebody will tell us. If not, who cares?" Actually, nothing happened. That is how I developed my "need not to know" principle, enabling me to easily manage the increasing amounts of information.
This is one of 25 Leadership Perspectives in a book published by the Møller Centre to mark its 25th anniversary year entitled Leadership Perspectives. The book, which you can download here, features 25 leaders talking candidly about what they believe to be the greatest challenges facing leaders over the next 25 years.