Professor Lord Alec Broers – Lord Broers was the Master of Churchill College at the time of the founding and opening of the Møller Centre on 2nd October 1992. Following this, Lord Broers became Vice Chancellor of the University of Cambridge.
An inspiration
Mærsk Mc-Kinney Møller – Having worked with many prominent people, one stands out as earning more of my admiration than any other: Mærsk Møller himself. The scale of his achievement is staggering. At a time when the UK's shipping industry was fading, he built a world-beating maritime empire from a country with just five million inhabitants. His commitment to excellence, ambition and measured risk-taking was relentless. He was also devoted to innovation. His ships were built using the most modern computer design systems, always pushing the boundaries of the possible – and equipped with the very latest propulsion and stabilisation systems, loading and unloading equipment, and navigation and communications. He was far from blind to cost, however. We shared an interest in sailing, and I had invested in a navigator for my yacht at a time when the Royal Navy was spending 30 times as much for its own systems. Going aboard Mærsk's latest flagship I noticed the same navigator as on my infinitely simpler craft. He'd done his research: this worked better. This hands-on approach to detail also applied to the Møller Centre. He knew teak decking as well as anyone, and when he spotted that the wood on the tower's deck was not resisting the weather as well as it might, had it re-done to nautical standards. He was a far more energetic philanthropist than is generally recognised, a committed internationalist and a devoted family man. He took delivery of his last yacht at 96 and was as excited as ever about the specification and the upcoming voyages. An inspiration.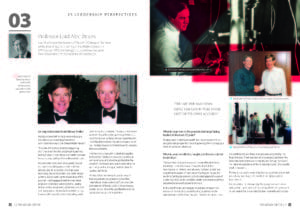 What in your view is the greatest challenge facing leaders in the next 25 years?
Finding ways to distribute wealth and resources more fairly – and persuade people that this is happening. We're storing up a heck of a problem otherwise.
What in your own life has taught you the most about leadership?
Trying to lead change is always extremely difficult; there is inevitably a level of resistance. I was the first full-time Vice-Chancellor of the University recruited from scratch and a significant number of members of the Regent House, the resident Cambridge academics, had voted against the idea of a permanent VC, understandably unwilling to invest what they perceived as so much power in one role. In the end though, we managed to suggest changes that increased the role of our world leading academics in the administration of the University and therefore its international
competitiveness and these changes were accepted by the Regent House. There was also an encouraging growth in the University's interactions with industry and a huge increase in the national importance of the Cambridge cluster of successful small companies. The key to successful leadership, here as anywhere, is to explain your vision, have it agreed, then find the right people to
implement it.  It is also critical to acknowledge that progress never comes without risk – and that no decision is worth the delay required to eliminate it. You never will. Act, then deal with what occurs.
This is one of 25 Leadership Perspectives in a book published by the Møller Centre to mark its 25th anniversary year entitled Leadership Perspectives. The book, which you can download here, features 25 leaders talking candidly about what they believe to be the greatest challenges facing leaders over the next 25 years.