Clive Woodward – England Rugby World Cup winning coach and Patron of the Churchill Leadership Fellows programme.
An inspiration
Sir Alex Ferguson Though many people have provided inspiration along the way, I have generally been most inspired in life and work by competition. As a coach it is what used to keep me up at night. I could think of nothing worse than waking up one morning to realise that my competition had come up with something that we hadn't thought of. Beyond that, I do admire longevity in leadership. Sir Alex Ferguson, for example, is a shining example of continuity – 22 years at the top, dealing with an incredible procession of talents and egos, outlasting everyone and finally going out on his own terms. That to me is genuine success.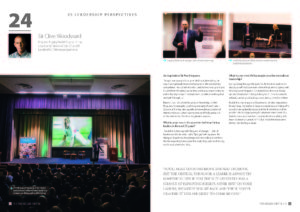 What in your view is the greatest challenge facing leaders in the next 25 years?
The ability to keep up with the pace of change. I think all leaders need to be what I call a "Sponge," with a passion for taking on board new knowledge and new skills and not think that because they have got to this leadership position that they don't need to keep learning.
What in your own life has taught you the most about leadership?
Losing. Going through the pain. You find out so much more about yourself and your team when things are not going well. Winning doesn't happen in a straight line, there are always ups and downs, but as long as the general trend is upwards, setbacks can be good as long as you always learn from them. Beside that, running a small business is the ideal preparation for anything. I've worked in large corporations and high-profile roles but being directly responsible for the livelihoods of ten people is the ideal grounding for whatever comes next. You have to make your own luck – so you throw everything at it, leave no stone unturned, no 'If onlys'. I took the exact same skill set into the England job. "You'll make good decisions and bad decisions, but the critical thing for a leader is always try something new if you think it genuinely has a chance of improving results. Never rest on your laurels, because if you sit back and think you've cracked it you are likely to come second."
This is one of 25 Leadership Perspectives in a book published by the Møller Centre to mark its 25th anniversary year entitled Leadership Perspectives. The book, which you can download here, features 25 leaders talking candidly about what they believe to be the greatest challenges facing leaders over the next 25 years.