Georgia Sorenson founded the James MacGregor Burns Academy of Leadership at the University of Maryland, USA where she was a Distinguished Research Professor and she also co-founded the International Leadership Association. Professor Sorenson has served as Senior Policy Analyst to President Jimmy Carter in the White House, Inaugural Chair and Professor of Transformational Leadership of the U.S. Army War College, and Visiting Senior Scholar at the University of Richmond's Jepson School of Leadership Studies, as well as the University of Maryland Carey School of Law.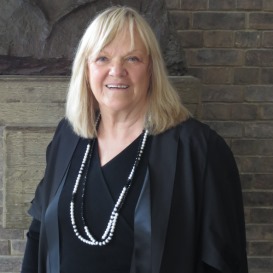 An architect of the leadership studies field, Georgia was awarded the 2015 International Leadership Association's Lifetime Achievement Award, an award that "honours an individual's accomplishments in the development and enhancement of the field of leadership over his or her lifetime."
Georgia has been a key contributor to the Møller Institute's 'Churchill Leadership Fellows' programme for next-generation leaders.
Dr. Sorenson is co-editor (with George Goethals and James MacGregor Burns) of the four-volume multi-award winning Encyclopedia of Leadership, and The Quest for a General Theory of Leadership. Her latest book is on business leadership, The Power of Invisible Leadership (with Gill Hickman). Sorenson serves on the editorial board of numerous refereed journals including Leadership (U.S. Editor) and Leadership Review.
She is co-editor (with Ronald Riggio) of a series, Leadership Research and Practice, for Routledge Press. The series includes both edited and authored volumes showcasing the latest leadership and behavioral research, as well as practical books based on the latest leadership theory with applications to Management, Industrial/Organizational Psychology, Organizational Behavior, Law, Political Science, and Military Psychology. Details here.
Her upcoming book is on the business leadership philosophy of Béla Hatvany.