Catering Designed to Inspire Your Delegates
Food to Excite the Senses
At the Møller Institute, your taste buds will be treated to exciting, varied, healthy and responsibly sourced food as part of your premium experience. We will work with you to ensure that the food suitably reflects the event you are organising, thrills your guests and is integrated seamlessly within your event.
Here our guests are treated to fresh, seasonal and sustainably-sourced produce available for breakfast, lunch, dinner and beyond.
If you would like to view our sample menu, please contact our Conference and Events team.
Chef's Approach
Learning is central to the team's ethos. We maintain our creative flair and culinary passion with regular team away days and training in collaboration with your suppliers to immerse ourselves in new cuisines to bring back to our delegates.
We love to provide food-related 'wow factors' through culinary theatre or celebration cakes and food displays, and we enjoy designing bespoke menus for event organisers. This often entails bringing new approaches and flavour combinations into our cooking.
Møller Institute's Food Offering is Grouped into the Following
What we eat and drink has a considerable effect on our physiological state, influencing our attention span, fatigue levels, recall and memory processing, imagination and more. Our experienced team understand what to eat and when to help boost the concentration levels of your delegates to ensure they have an impactful experience.
Read insights from our brain food series.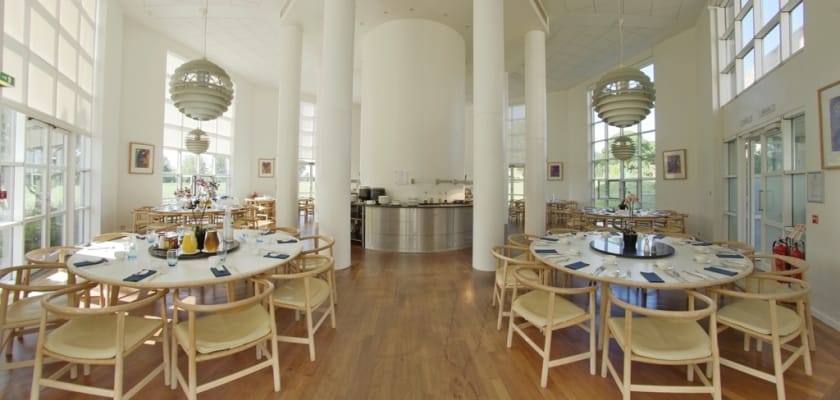 Catering Capabilities
Lunch and dinner can be enjoyed in the Restaurant, Tower Lounge Bar, Study Centre, or privately in one of our meeting rooms.
Our stunning Tower Lounge Bar, with a view to Cambridge, is fully stocked with local ales, fine wines and spirits and is the perfect place to unwind or network with colleagues.
If you are visiting us for an event, our position within Churchill College at the University of Cambridge means we can arrange for an unforgettable experience for your delegates to a traditional dinner in the halls of any of the 31 University of Cambridge Colleges.
Other pages in this section