Andrew Young – Lifelong civil rights activist, former US ambassador to the United Nations and former Mayor of Atlanta, Georgia.
An inspiration
President Obasanjo of Nigeria – As a child, Franklin Roosevelt. As an adult, Gandhi – and also President Obasanjo of Nigeria. They are quite different, but each took a nation in extreme difficulty and held it together – and in the process, held together their part of the world and assured their part in history. Obasanjo did whatever was necessary to keep Africa together, though I feel few people give him the credit he deserves. Like Gandhi he encountered much resentment, but there is no doubt that he was the genius behind Africa's march towards democracy.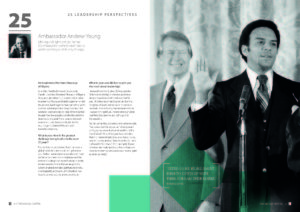 What in your view is the greatest challenge facing leaders in the next 25 years?
First we have to understand there has been a global revolution, and we are living in a new age. Neither nationalism nor socialism can exist on the same planet as the cellphone and the internet. Holding on to a past is always suicidal; leaders need to accept that we are part of a system of global energies (spiritual, electronic, and magnetic) and we must find radical new ways to co-exist socially and economically.
What in your own life has taught you the most about leadership?
I learned from the Quakers, Tolstoy, and the Bible that leadership, inspiration and vision always come from a 'still small voice' within you. The New Testament's assertion that 'the Kingdom of God is within' made no sense to me until I listened to my soul and realised that I was part of a spiritual universe where physical manifestations are the less lasting part of the equation. Martin Luther King put words on it when he said, "You cannot be free or you cannot be yourself until you overcome the love of wealth and the fear of death." He said that you have to realise that the materialist side of your existence is very, very temporary and you have to be free to move back and forth between flesh and spirit. If your decisions are made spiritually, they perhaps are more in conformity with whatever universal spirit exists in our midst.
This is one of 25 Leadership Perspectives in a book published by the Møller Centre to mark its 25th anniversary year entitled Leadership Perspectives. The book, which you can download here, features 25 leaders talking candidly about what they believe to be the greatest challenges facing leaders over the next 25 years.