Angharad Devereux was a participant on the inaugural Churchill Students – Future Leaders programme which saw undergraduates from Churchill College learn leadership skills to help them in their studies and future careers.
An inspiration
President Barack Obama – Recent developments in global politics have felt like huge steps back in terms of my goals and ideals, but Obama's call to reject cynicism and pessimism is still incredibly powerful. He made me feel I am not alone in this feeling of hopelessness, telling us not to feel gripped by forces we cannot control. The feeling of hope and compassion Obama gave to the world still drives on so many in these less certain times. The Møller Centre's training further emphasised the importance of controlling one's own future. It also taught me workable practices by which to both break down and reach closer to your goals.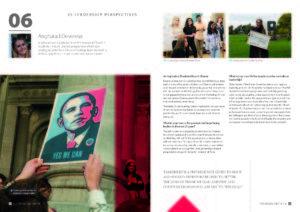 What in your view is the greatest challenge facing leaders in the next 25 years?
The self-concern encouraged by social media has created a lack of compassion in the world at large. When people are not satisfied they will look for the easiest person to blame, often without empathy or factual evidence. With mainstream media becoming less bound by journalistic standards, as competition drives outlets to encourage 'fake news', presenting a trusted perspective is a huge challenge for leaders in all fields.
What in your own life has taught you the most about leadership?
Gillian Secrett of the Møller Centre has been a very inspiring leader figure to me. She fought for the funding for our Churchill Students Future Leaders programme and evidently genuinely cared deeply about giving us this opportunity. This enthusiasm made us really invest in the programme and gain so much from it. The programme was a highlight of my time in Cambridge and I know it will help me achieve my goals in later life. Gillian's character left a big impression on me. She was extremely caring and pleasant but also assertive, earning enormous respect from her colleagues and those of us on the programme. She showed me that it is possible to be this kind of leader; that empathy and compassion do not have to be lost in order to be successful. "Leadership is a privilege not given to many and should therefore be used to better the lives of those we lead. Empathy and continuous learning are key to this goal."
This is one of 25 Leadership Perspectives in a book published by the Møller Centre to mark its 25th anniversary year entitled Leadership Perspectives. The book, which you can download here, features 25 leaders talking candidly about what they believe to be the greatest challenges facing leaders over the next 25 years.