Des Woods – Møller Institute Associate who works extensively with Møller Executive Education to deliver programmes for international business leaders.
An inspiration
Francis of Assisi – Francis of Assisi was a soldier who became a saint. He was captured in battle in 1203 and spent a year in very harsh conditions as a prisoner. On gaining his freedom he gave away all his possessions and began a campaign to encourage others to take up the call to serve the poor and reform the growing excesses of the Church. Francis led by example, attracting many followers by living simply and caring for the poor. As a result, the wealth of some priests and bishops began to be condemned. In 1210 he formed The Order of Friars Minor, focused on offering practical assistance to the poor. The Franciscan Order became one of the leading voices for change in the 13th century, stressing a need to help the poor and live a simple life.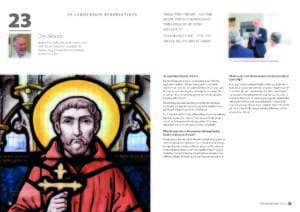 What in your view is the greatest challenge facing leaders in the next 25 years?
People remain the same; both altruistic and self-serving, but also curious and adaptable. However, the accelerated social change brought about by robotics, artificial intelligence (AI) and social media will demand leaders who are capable of exploring and exploiting new and emerging social structures, alongside very different attitudes to hierarchy, the use of power and authority.
What in your own life has taught you the most about leadership?
In my early career I worked in fashion retailing, a sector that is by its nature very people-intensive and, like all business, needs to be efficiently run. I had developed a habit of travelling to the best-performing branches with a gift for our shop staff to convey my thanks. As the business grew rapidly I replaced this with a 'system' of having flowers delivered to the branch by courier. It was very efficient, but a complete disaster. It's not the gift that matters; it's the human attention. Efficiency isn't the same as effectiveness. Pope Francis has also been inspired by the life and work of Francis of Assisi. "'Head then heart' – do the right thing commercially then follow up with humanity." "Leaders eat last' – it's not about me, it's about them!"
This is one of 25 Leadership Perspectives in a book published by the Møller Centre to mark its 25th anniversary year entitled Leadership Perspectives. The book, which you can download here, features 25 leaders talking candidly about what they believe to be the greatest challenges facing leaders over the next 25 years.