Founder and Chairman of Cambridge Development Initiative, social entrepreneur building a new foundation for the global insurer Generali; as a Churchill Leadership Fellow, Patrick benefited from coaching by the Møller Centre and Learn to Lead.
An inspiration
Marcus Aurelius – Emperor Marcus Aurelius was one of the best educated and most intellectually brilliant world leaders in history – the very image of a philosopher king. Instead of following his inclinations, though, he had to take on the administration of the world's largest empire and fight the fiercest enemies that Rome had faced in 200 years. He spent more than a decade leading his armies in the field.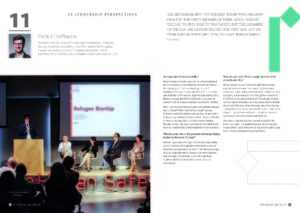 What I admire is that Marcus Aurelius nevertheless stayed true to himself. Rather than letting himself become hollowed out by the violence around him, he spent time in army camps writing his famous Meditations, a reflection on how to face the adversities of life and on leading through service. This was a man who led himself first and foremost. I believe this is what enabled him to lead others.
What in your view is the greatest challenge facing leaders in the next 25 years?
Articulating a vision of an open, diverse and responsible society that meets the aspirations of everyone, not just those of a cosmopolitan elite. And if that was not enough of a challenge, this vision also has to be communicated with courage and authenticity, even though these qualities will often leave leaders open to attack or even ridicule.
What in your own life has taught you the most about leadership?
When I started my own NGO, I thought that my most important resource was time: I was ready to buy time wherever I could, cutting down my sleep to two hours and squeezing out an extra ounce of energy from every form of caffeine I could get my hands on. This actually worked well enough and I landed major successes. And so disaster struck out of the blue, when two members of my start-up team quit from one day to the next. They were totally worn down, citing concerns and frustrations which they were sure I would not understand or even listen to.
The lesson is obvious and it is one of the oldest in the book: for a leader, the greatest resources are her people. I realised then that, however much I pushed myself, I could never achieve real impact by going it alone.
This is one of 25 Leadership Perspectives in a book published by the Møller Centre to mark its 25th anniversary year entitled Leadership Perspectives. The book, which you can download here, features 25 leaders talking candidly about what they believe to be the greatest challenges facing leaders over the next 25 years.