Alumna of Churchill College and now Producer and Creative Director at Field Day Productions. Previously she has held a number of senior management posts at the BBC, including Commercial Channels Manager, Channel Development Executive and Commissioning Editor.
An inspiration
Josephine Baker – Josephine stands out as a pioneer who lived life on her own terms and pushed boundaries, improving the lives of those who followed. The most famous black superstar of her time, she turned her stardom and taboo-busting attitudes to resistance fighting, becoming a fervent Civil Rights Campaigner alongside Martin Luther King Jr. On a personal level, she was determined to prove that people of different race, colour and religions could live together in harmony and brotherhood. She adopted 13 children from around the world to create a Universal Family and brought them up in France in the '50s and '60s, shaking off the limitations of her past to break through all the expectations of a black woman in the mid-twentieth century.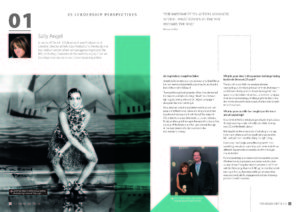 What in your view is the greatest challenge facing leaders in the next 25 years?
The lack of silence. With the constant stimulae surrounding us, decisions get made in haste, their impacts are felt immediately and reverberate far longer. Without space to contemplate and connect to our inner compass, it will become increasingly challenging for leaders to find the time to choose the best course of action and consider its consequences.
What in your own life has taught you the most about leadership?
Most of what I've learned about good leadership has been through working closely at the BBC with Roly Keating, now CEO of the British Library. Roly taught me the importance of adapting to change, listening to others as well as myself, being prepared to fail – and, wherever possible, doing the right thing. Now every time I begin a new film or project I learn something new about leadership and am reminded how different requirements are needed at different stages in a production. For me, leadership is a creative and collaborative process. Whether I am trying to persuade someone to buy into a vision of something that doesn't yet exist, or am faced with the blank page that needs filling, the shot that needs framing or the cut that needs editing, I am aware that every moment calls for engagement and remembering purpose as well as passion.
This is one of 25 Leadership Perspectives in a book published by the Møller Centre to mark its 25th anniversary year entitled Leadership Perspectives. The book, which you can download here, features 25 leaders talking candidly about what they believe to be the greatest challenges facing leaders over the next 25 years.