Managing strategic customer relationships is a multifaceted endeavour with puzzling results for many companies. Whilst they implement Strategic Account Management (SAM) programmes to achieve larger share of wallet (i.e. customer spend) and increased revenues and profits, these programmes often result in lower prices and higher costs to serve for the providers. Most companies however, need to embark in sophisticated SAM programmes given the demands placed by their strategic customers.
Almost 30 years ago, Procter & Gamble was challenged by its largest customer, Wal-Mart, to redefine their mutual relationship. The retailer argued that P&G's sales methods, where sellers from each category pushed their own products, and the regional fragmentation of their operations, resulted in unnecessary complexity and purchasing costs for Wal-Mart. P&G's response was a complete overhaul of their approach, appointing multi-functional teams, investing in new technologies to optimise stocks and flows and adopting a longer-term perspective. Today, Wal-Mart represents more than $11bn, that is about 14% of revenues for P&G.
Today many organisations are, like Wal-Mart, asking more from their suppliers. The procurement function is becoming an increasingly strategic function. It is crucial to achieve operational efficiencies through cost reductions, but also instrumental in contributing to the innovation agenda, by engaging with suppliers that bring new ideas and novel capabilities. This dual purpose of optimising cost and maximising value leads organisations to develop complex supplier performance schemes. Both measurable and less measurable outcomes, become part of the expected service.
In sophisticated relationships, traditional 'buyers' are evolving to 'value managers' and moving from demanding cost reductions to requiring the cutting of total costs of ownership. Thus, managing strategic customers requires an integrated approach to:
re-engage with strategic customers
develop winning offers, and
design customer centric approaches and processes.
Re-engaging with strategic customers entails adopting the appropriate key account management approach and building a strong internal case for embarking on it. There is a confusion between large and strategic customers. Not all 'large' customers are 'strategic', in fact, many large customers are essentially transactional.
Re-engaging key customers demands transitioning from adversarial to trusted and cooperative relationships, where goals are shared and information exchanged within dense networks of interpersonal relationships.
Figure 1. Drivers of relationship quality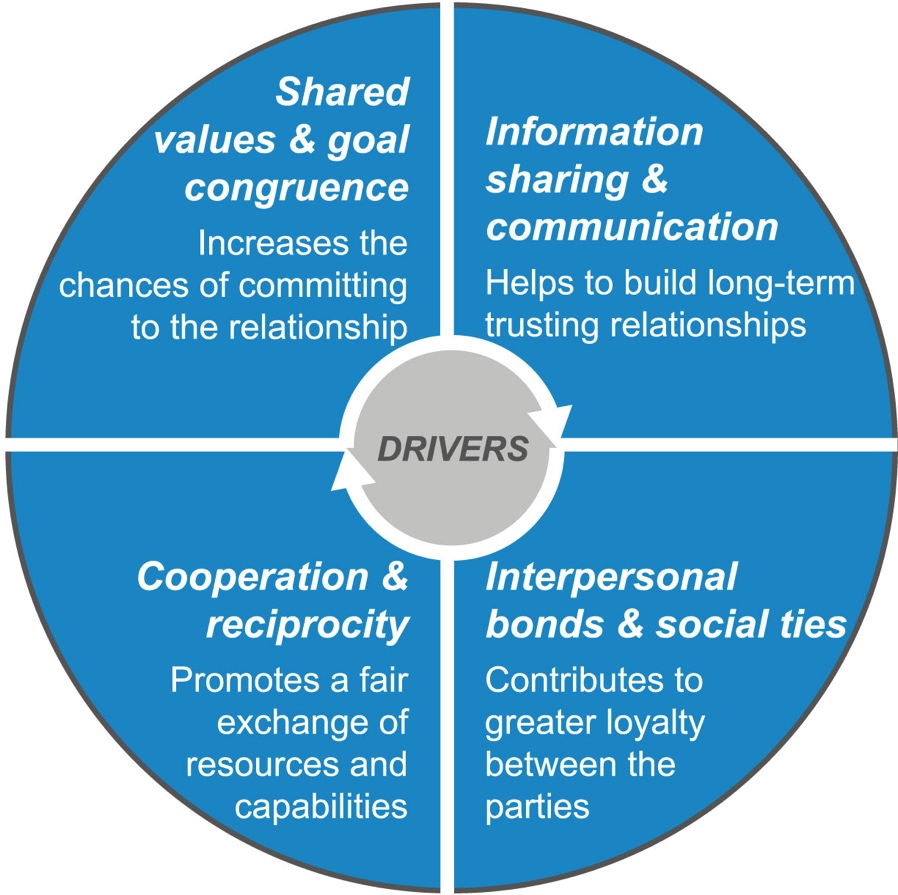 A key step in re-engaging strategic customers, is to build a holistic understanding of the customer including the customer's customer, its competitors, operations, core capabilities and business models.
Develop winning offers
Strategic customers demand differentiated and highly relevant offers from their suppliers. This differentiation rarely comes from the product or service alone, but from other less measurable areas such as enhanced reputation, knowledge and insights.
Figure 2. Sources of value in strategic customer relations

Strategic customer management though, calls for defining and quantifying the value created and decisive moves towards value co-creation. Leading organisations like IBM scope all the possible sources of value in their relationships with their key customers. Then, they translate into dedicated scorecards, quantifying value and defining specific practices to ensure seamless delivery.
Designing customer centric approaches and processes
By definition, managing strategic clients requires a re-organisation to become customer-centric. In so doing, key account manager roles are defined, with a clear set of competences and skills.
These professionals are then offered reward packages that are distinct from those we see in sales. Mindful of the limitations and potential unintended consequences of short-term oriented incentives, customer-centric companies emphasise the medium to long-term and endeavour to enhance the intrinsic motivation of their customer-facing roles.
It is the integration of approaches and the sustained efforts to implement strategic customer management practices what results in new value being created and customer satisfaction. This then, often leads to larger share of wallet and increased revenues and profits, the sought after outcomes of SAM investments.