The market in legal services, as in many areas of professional service delivery, has developed rapidly over the last two decades to become a significant business, carried out on a global scale. However the supply side of this service – the fee earning law firms – represent one of the few unconsolidated global markets, with many hundreds of suppliers offering similar services at a high price in a manner which is undifferentiated from the point of view of the buyer. Even experienced technical buyers (i.e. other lawyers) find it difficult to see and understand the differences in the quality of advice given by their supplier firms.
What clients want
For a lawyer working within a professional services firm there are a few 'givens': Most fee-earning lawyers have never worked within a 'normal' business, except during vacation or as part-time jobs. In fact many have very little idea of how these businesses function and what drives the people within them. They think it is similar to their own firms. It is not.
The economic model of businesses and the roles and working practices of the people within them are very different. As a result, the priorities and concerns of clients who work in these companies are also different to those of a client facing lawyer.
An example might be that fee earning professionals do not typically face budget pressure in their day to day work. They are simply encouraged to book their time and the actual cost of the work is sorted out later – though it is fair to say that they may come under considerable pressure to justify this cost.
By contrast, in-house lawyers are constantly and viscerally aware of the budget constraints under which they work. It dominates their working time. If a fee earner mis-manages an in-house lawyer by disrupting the assurance of their budgetary management and creates tension and embarrassment within the company, they are rarely forgiven.
In a law firm, there is a direct correlation between success and activity. A busy firm is a successful firm. However in an in-house legal department, this is not the case. The measure of success is based on value not activity. No one in the company is watching what in-house lawyers do and nobody values them because they choose to work long and frantic hours. In fact if they did, and someone noticed, it would be a source of concern. They would look disorganised and panicked; not something you would expect to see from your in-house 'experts'.
Why do businesses employ in-house lawyers anyway? There are four main reasons why in-house lawyers are useful to business:
Efficiency: it is cheaper to employ them than to use external law firms.
Integration of legal advice: they know about the business so they can deliver, or manage the delivery of advice that works for the business.
Cost management: to manage the often significant legal spend of the business and, like most functions, to see that reduce where efficiencies can be found.
Expert outsourcing: they know where, when and who to go to when the need arises. In-house teams will only outsource work to a law firm if they can get it cheaper, faster, require scale or need greater expertise than they have internally.
So what do clients really want?
Inside a client business, there are essentially two constituencies of clients. The first are lawyers who work in the legal department and the second are people running the business who are only occasionally lawyers. The more experienced and skilled a legal department is, the less likely that the lawyers will act like lawyers and will instead act like businesspeople.
The first rule of understanding what clients want is that the external lawyer acts for individual people in the firm, not the firm itself. It doesn't matter what is written on the engagement terms – it's all about individuals, what they need and how they prefer to be engaged.
Our research suggests that a hierarchy of service expectations appears to be in operation which changes as a relationship develops. By clients and law firms better understanding these dynamics the dialogue between the two can be improved, the speed of relationship development can be accelerated and higher quality service delivery can be achieved:
The Work/Relationship Hierarchy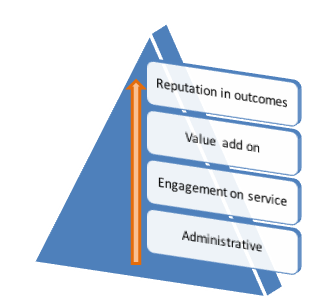 This article explores each phase of this hierarchy, the drivers behind the in-house lawyers' requirements and the different tests in the relationships that are seen in each phase.
Our research supports the conclusion that for the majority of relationships there is a predictable sequence to how things develop (see stages in the development of client-supplier relationship panel).
When the relationship develops well there are significant benefits for both the client and the law firm to be reaped from developing a strong understanding and approach to work.Our research supports the conclusion that for the majority of relationships there is a predictable sequence to how things develop (see stages in the development of client-supplier relationships panel).
For those who do not understand how the relationship evolves and the different expectations from both sides then relationship can stutter and end.  On the whole this happens by clients opting for the easier life of not instructing the firm again. But the research revealed frequent examples where the frustrations were such that acrimonious splits occur, new firms are appointed mid-deal and reputations are damaged.
Stages in the development of a client – supplier relationship
Stage 1: Administrative effectiveness
Consider a firm delivering the first piece of work to a new client. What does the client want? The evidence indicates that they want a seamless process without drama, linking the two 'back offices' between the firm and the client. The work goes to plan and to budget, everyone involved knows what is happening and the client gets exactly what they expected to get. Job Done!
The next piece of work goes the same way and the one after that as well. The teams involved have a cordial and reasonable relationship – everyone is happy.
Our research suggests that this period of 'work testing' occurs over three or four cycles of work delivery, at which point the law firm becomes trusted in their competence to deliver this type of work on an unlimited basis. Relationship capital is given to the law firm to allow them to extend their service to other work. If service delivery is disrupted in this period by timing, quality, unexpected cost issues or by relationship conflict, then the work from the client will quietly dry up. This will often happen without any specific intention on the part of the client.
The key perception of the client is that processes are well aligned to deliver:
Clear outcomes and delivery – The client understands what the work is and the process by which it will be delivered.  They then get it in the quality, format and timescales they expect and within an acceptable style of relationship between teams.
Budget integrity – Client expectations on cost are directly met or, if different, are explained at a very early stage.
WIP Reporting – regular and acceptable to the client who has to account to their internal reporting. This will differ by client, but must explain at the 'right' level of detail what the client expects.
Issue management – If the unexpected happens and things need to change then there is clear communication and re-negotiation of budgets if necessary.
Stage 2: Engagement on service (between client and law firm)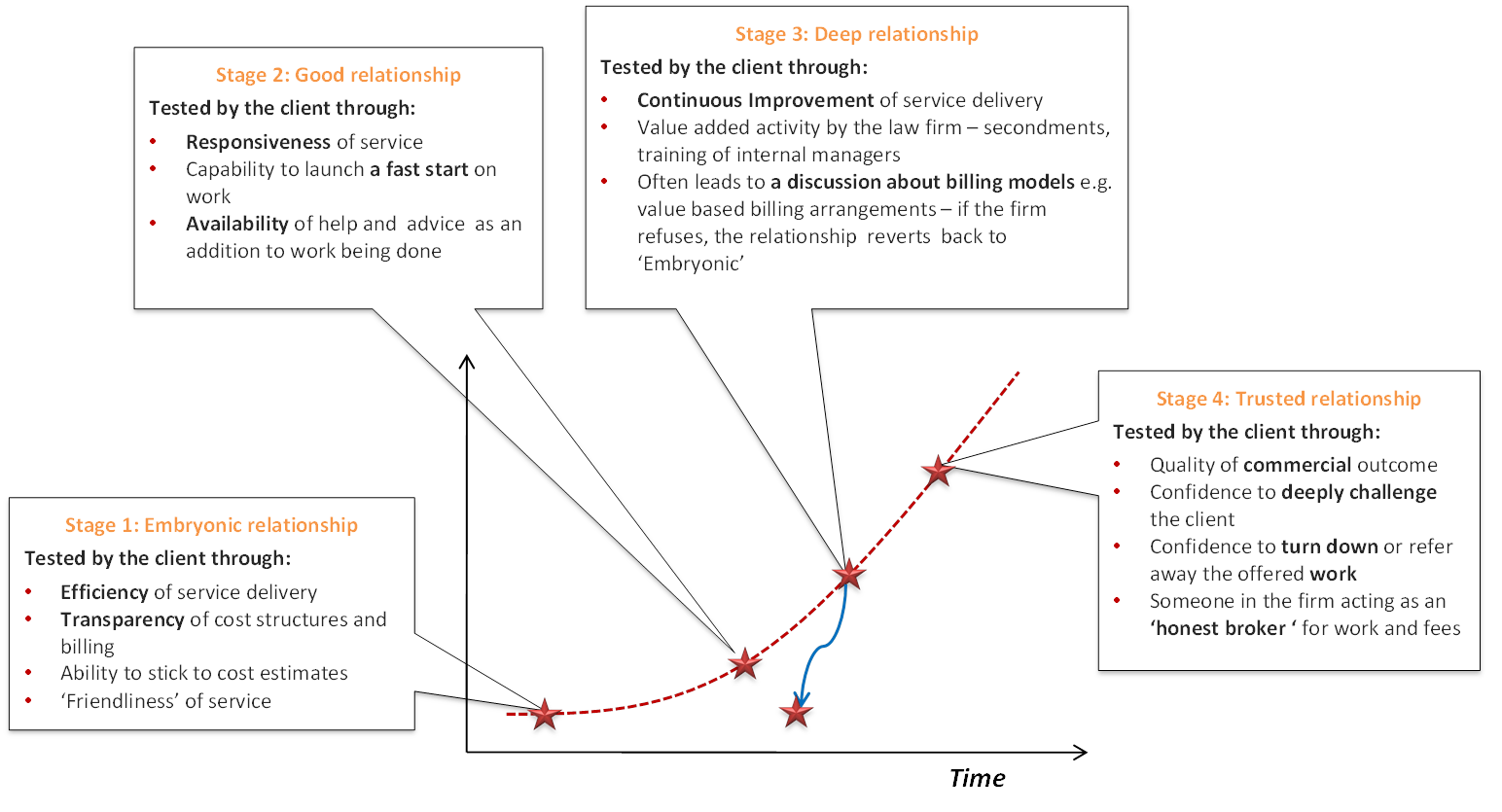 As a result, client expectations begin to change. Basic work delivery is taken as a given and the testing of service delivery is built upon a different set of criteria.As the relationship between client and law firm grows, a mutual understanding of how service is delivered and the drivers behind the service is also developed.
The key to understanding the nature of these tests is to understand the budgetary position of the in-house lawyer. Year-on-year the in-house lawyer is expected to innovate in terms of service delivery (the lawyer is no different to anyone else in the company). In western economies, process and product productivity improvement runs at a rate of 1.5% – 2.5% per year.
In practice this means that even in boom times the in-house team needs to demonstrate a process improvement each year in their budgets. The same piece of work needs to be done a couple of percentage points cheaper or a couple of percentage points faster than it was done the year before.
At this stage the key test of the relationship, often seen through the formal or informal law firm panel process, is for the law firm to demonstrate that they can deliver more for less on a continuous and incremental basis.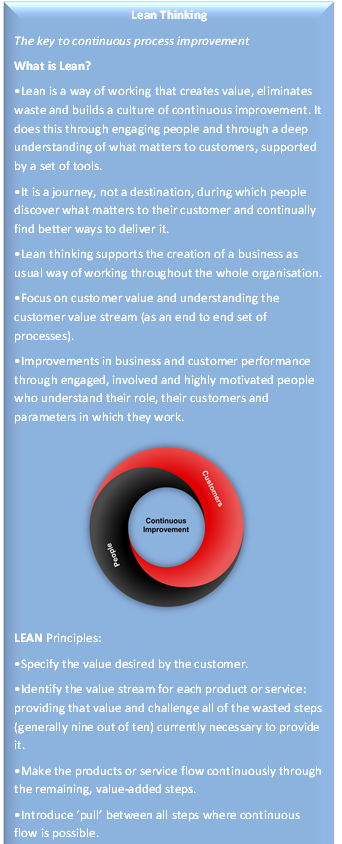 On the whole, law firms do not typically like to reduce their fees, so speed becomes the test. The key perception of the client is that processes are speedy:
Minimal briefing is required – There is an assumption that the law firm is already well briefed on the business and context for the work. We have seen examples in our research where solid work still resulted in the dismissal of the law firm, because the fee earners needed to be constantly updated or kept changing.
Fast start on work – This is a significant and important test by the client. The in-house lawyer can demonstrate effectiveness to their own internal customers by demonstrating very early activity on the work.
Short hand cross-team communications – Demonstrated by informal, friendly and regular e-mail, phone and face-to-face chatting, during which both parties use a common language (and jargon). One aspect of this noted in our research is the ability of an in-house lawyer to ring the fee-earner to discuss informally an idea or issue and not expect to be billed for it.
Stage 3: Value add on process
In this phase of the relationship, our research suggests that an understanding of how to initiate and manage continuous process improvement is a key differentiator between law firms. And most firms simply do not recognise this as an explicit client need, though the law firm may be put under pressure to deliver it.
This is often driven through the panel review process and the key perception of the client is that any suggested process improvements deliver:
Shorter lead times – The test is that law firms are continuously and pro-actively making suggestions as to how the work can be speeded up.
Cost reduction – If increased speed can be demonstrated then the need for cost issues to be discussed reduces.
Improved risk management – The in-house team tests the service delivery relationship with a new expectation that the law firm will help them to manage their internal customers, which increases confidence in the in-house legal department and also creates time efficiencies.
For more information on process improvement, see the side panel on LEAN thinking.
In addition, the client also starts to develop the expectation that their in-house legal team will be developed:
Capability is improved – by the transfer of knowledge and experience to the in-house team through training, secondments, technology and critically through the process of real time mentoring by law firm fee earners as they progress a piece of work with the client.
Capacity is improved – in-house lawyers have long "to do" lists so anything law firms can do to free up time is valued.  For example training the company's internal (non-lawyer) managers and/or delivering updates that target non-lawyers.
In this stage of the relationship, our research has indicated that there is typically an on-going dialogue around cost and fee structures. There is tension in this dialogue as law firms typically want to maintain some form of hours based fee billing, which protects their margin. In-house lawyers by contrast want to build assurance in their budgetary management and the open ended cheque book that is hours based billing does not do this.
Company legal departments will seek to move to a more cost assured position of fixed fees for volume work and/or some form of value sharing for more complex and commercially impacting work. The research has indicated that once this issue has been raised, the law firm must respond positively or the relationship between firm and client will start to diminish and the in-house buyer will eventually resort to finding alternative suppliers who can provide this budget assurance.
Increasingly the role of the procurement department is gaining prominence. Their focus is to ensure cost reduction for the business in all their supplier contracts ad they are increasingly gaining credibility and respect with in-house legal teams for their ability to negotiate with law firms and achieve better fee arrangements and structures.
The research also indicated a clear distinction by in-house teams between "volume" work, with price expectations around efficiency, and "value" work, where alternative fee arrangements are duly considered (see the panel: pricing dynamics in a relationship).Increasingly the role of the procurement department is gaining prominence. Their focus is to ensure cost reduction for the business in all their supply contracts and they are increasingly gaining credibility and respect with in-house legal teams for their ability to negotiate with law firms and achieve better fee arrangements and structures.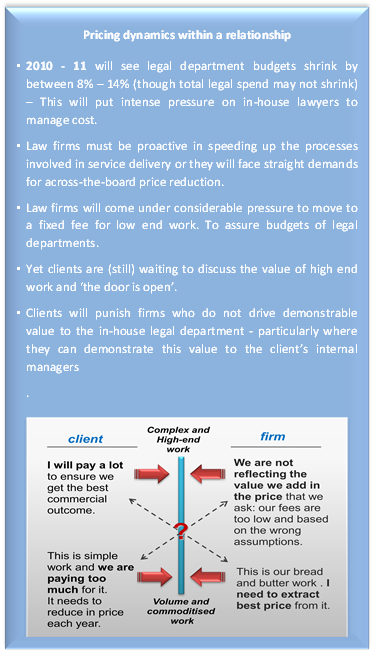 Stage 4: Reputation built through delivered outcomes
This deepest level of relationship is characterised by high levels of trust and a sense of common purpose in service delivery. This is often seen by the fee earner as being a 'trusted business advisor'.
From the point of view of the in-house lawyer; they are in a position where they are prepared to vest a high level of control in work and access to internal stakeholders (e.g. non-lawyer internal managers) of their company to the law firm with little need for oversight or supervision.
There is a strong implicit assumption that the law firm will not take advantage of this position and will promote, rather than subvert, the in-house lawyers' position.
At a personal level fee earners are expected to act as an honest broker between company and law firm, ensuring that the company gets the best possible value and service. For example, they will be expected to turn down work that can be delivered better or cheaper by another supplier and challenge partners in their own firm who are not delivering value.
Our research suggests that even a seemingly small breach of trust at this level of relationship can have a profound effect on the relationship if not dealt with promptly (see the section on relationship 'pinches') but these effects tend to take some time to become visible to the fee earner themselves – you don't find out if you don't ask.
The research suggests that the type of work the company perceives it is buying results in different types of relationship arrangements between in-house and external lawyers:
For 'bet your company' work
In this condition the in-house lawyer will seek an external partner that is capable of bringing immediate support and steamrollering the problem. The relationship trust is based on a demonstration of high confidence and immediate technical and commercial insight on the part of the external advisor. The in-house lawyers' role will be to clear the decks and give the external advisor supported access to key decision makers and company resources.
When handled well by the in-house lawyer, this can significantly enhance their reputation in the business and in the broader community of in-house lawyers.  As such, it has the potential to become a career making opportunity.
Some firms have a market and brand reputation that allows them to enter the relationship at the highest level (see panel "Reputation Parachutists"). They are not required to demonstrate lower level capability around efficient administrative or work management processes as this is not relevant to the challenge faced by the business and the likely immediacy of the issue. The key quality desired is intensity and proactive effort e.g. in a hostile takeover or a major piece of litigation.
The service delivery 'deal' for the in-house lawyer is "whatever it takes".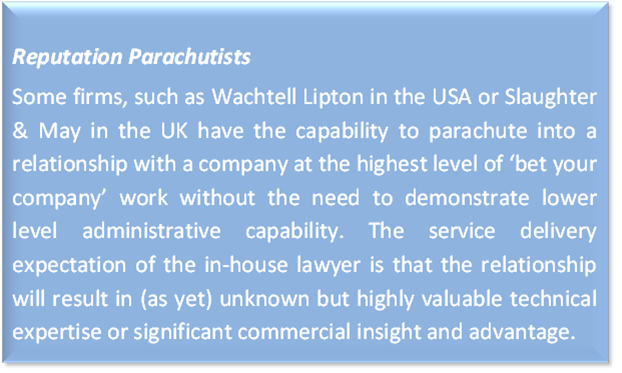 For complex 'Grey Hair' work
This is a safe pair of hands proposition for regular but high value work where a firm can enter the relationship by demonstrating scale and also cross-practice depth.
The law firm needs to demonstrate that it is highly integrated and can operate cohesively and consistently. Firms must also demonstrate continuous administrative effectiveness to gain repeat instructions.
The service delivery deal here is "we need you but don't damage my reputation". While it is reassuring to fee earners to be needed, it should be remembered that in-house counsel often see a number of competing firms as capable of delivering this type of service should the need arise.
For commodity and procedure based work
Annuity (i.e. long term and repeating) relationships at this level develop as a result of demonstrated competence at the lower levels of administrative efficiency, friendliness, flexibility and continuous process improvement. Evidence of a stage 4 relationship with suppliers of this type of work appears to be effective outsourcing of legal work and full access to non-lawyer internal clients.
The service delivery deal for the in-house lawyer is:  'I trust you to work in my interests and play straight with my budgets.' This is a highly competitive area often facilitated by technology driven efficiency.
Relationship "pinches"
We have explored how relationships develop through gradual growth, mutual understanding and trust – with the exception of the parachutists. Inevitably, at some point in the relationship there will be a disruption or 'pinch point', when something happens that threatens trust.
If these pinch points are not surfaced and dealt with the relationship diminishes or is severed. An example may be a firm who puts "surprises" through on invoices. If this goes unmentioned by the fee earner or the in-house lawyer then the relationship becomes brittle and may implode some time later when a related minor hiccup that would otherwise have been overlooked becomes "another example of arrogance" in the eyes of the in-house team (see panel "Commonly cited 'pinch' events").
On the other hand, if these pinch points are identified and addressed satisfactorily then the relationship is often strengthened and moves to a higher level of trust and mutual understanding.  Examples of good client management were often mentioned by in-house lawyers in the course of the research.
Commonly cited 'pinch' events
Breach of trust – "We had a reverse secondee in their firm and I received an unexpected cost for her which was a simple line in a WIP list for 'supervision' – when challenged they just cancelled it – but I go through their bills with a fine tooth comb now. And that takes a lot of time that I really don't have. So managing them has become much more difficult."
Breach of service quality – "We had a meeting and they drafted a letter which was not what I expected. I remember thinking at the time that this was going to be hard work and I could see that I was going to have to go through the whole thing again with them."
Failure to deliver value/service improvement – "Their advice is sound but it takes time to understand and we often have to go back and get clarification from them."
Inattention – "It's actually quite difficult to get them out of their offices to see us. It's as if all life has to circle around them."
Pushy – "Contact with them seems to be driven by a perceived need on their part to drum up some business."
Working beyond allowed network – "They had an assumed informality that diminished their impact with my internal clients – it was a sort of chatty furniture salesman type of behaviour – and my managers want confidence and authority as well as genuine friendliness."
Legalise – "They are good lawyers but they talk lawyer language all the time. It's a disaster and they annoy my managers."
Poor budget/cost management – "If the law firm say they have experience of the work – then they must also have experience of the price. So if the firm's bills exceed the price estimate, they are either clearly bullshitting me about their capability or are manipulating me as if I was a naive buyer."
Commonly cited 'excellence' events
Project management – "A partner who, when they knew I was about to go on holiday, provided a summary of the state of the deal for me to pass on to my colleagues. It saved me a job and reassured me that all would be well during my absence."
A good working environment – "When choosing a law firm, I ask them to bring a trainee along – it helps to see the sort of people they are recruiting and what they value in the firm. When they arrive, I quickly ask the trainee what it's like to work in the firm. If they look like a rabbit in the headlights and stare at their partner you know it could be trouble. But if they smile and say something like "It's really great here." Then you know the firm is friendly and you might be able to work with them."
Business framed Legal updates – "I don't need the knowledge in newsletters and updates, that's easy to get. What I need is the use of the knowledge – so if it is written so I can copy and paste it into an updated for my internal managers then it really makes a difference."
Develop my internal managers – "One firm offered to train my operating managers in the business – not just the in-house lawyers. It improved their performance and saved us a huge amount of time."
Conducting regular process reviews – "I work with a firm where we meet regularly to talk about how things can be speeded up on their and our side. We are continually making small and useful improvements.
Introduce team members – "A rare, but good, example was where a new associate was introduced to me before their name began to appear on the bill. When this doesn't happen I don't trust the bill."
Get to know us – "The best partners take time to talk to my operational managers and are genuinely interested in our business. This makes it so much easier to instruct them on our deals.
Stay in touch -"They ring me on a Friday afternoon just to put my mind at rest on how things are progressing." Vs. "They know what to do and run the matter independently of your needs."