The Møller Institute, Churchill College, founded in 1992, launched the start of its 25th anniversary year by looking to the future in a Practical Leadership Symposium focused on the key challenges facing business leaders over the next 25 Years. To mark the celebration the Møller have published a book, Leadership Perspectives, featuring 25 leaders who talk candidly about what they believe to be the greatest challenges facing leaders over the next 25 years. This theme was developed at the Møller symposium which brought together a group of its clients, associates, employees, Churchill College and Cambridge community and James MacGregor Burns Academy Alumni and Council, who are leaders and scholars from the USA.
The panel included Professor Lord Alderdice, former Speaker of the Northern Ireland Assembly, Professor Dame Athene Donald, Master, Churchill College, Ambassador Claus Grube, former Danish Ambassador to the EU and UK, Patrick Hoffmann, Founder and Chairman of Cambridge Development Initiative, Michael Seelman, Former Chief of Internal Communications FBI and Katherine Tyler Scott, Chair, International Leadership Association, and Ruth Berry, Møller Associate and Coach.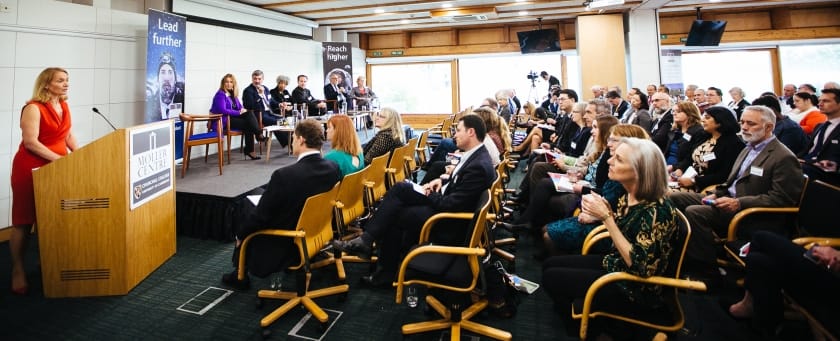 Gillian Secrett, former CEO of the Møller Institute said; "The panel discussion and the findings in our Leadership Perspectives book highlight that the context in which we lead today is in many ways unprecedented. The "megatrends" that affect our future are ignored at our peril. The impact and pace of demographic and social change, the scarcity of resource, the inequalities in our society, the complexity of our external environment and the impact of technology will all shape our future. Leaders will need to understand multiple perspectives."
Robert Marshall, Group Chief Executive of Marshall Group, a long-term client of the Møller Institute, officially launched the 25th anniversary year. Mr Marshall explained, "It is a pleasure to be launching these 25th year celebrations with a panel discussion on the next 25 years of leadership. I have always been struck by the Møller Institute's founding principles from Mærsk McKinney Møller and his amazing vision of bringing together academia and business. The Institute is very fortunate, by design of course, to be associated with one of the great colleges of Cambridge, a new college, in many ways liberated from old traditions and forward-looking – an enormous asset to Cambridge.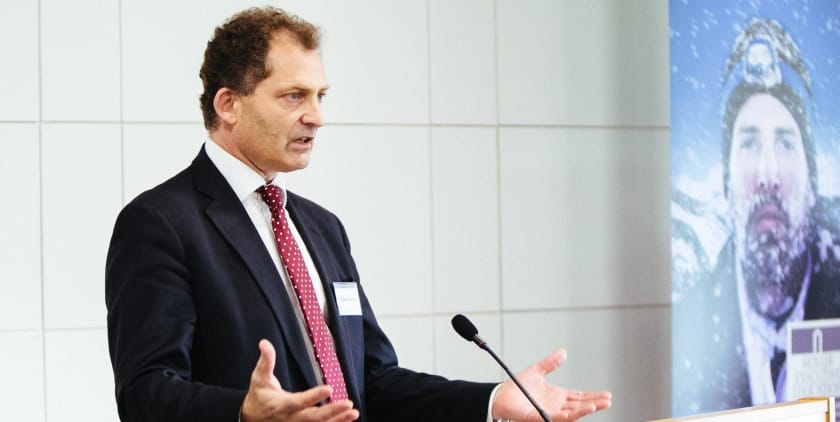 Robert Marshall, Group Chief Executive of Marshall Group
We've been going through the great adventure which all companies must go through all the time to survive, which is developing our leaders for the future. To do this we've developed, with Møller Executive Education, what I think is a ground-breaking leadership development programme for our aspiring leaders, using the state-of-the-art knowledge that is here in Cambridge, and teaching our people to really take responsibility for constant change to make a real difference and to align that difference with the constantly and evolving strategy and purpose of the company. It's been an enormous success and has been very hard work to develop but I hope that Møller does develop it for many other companies who can, I think, benefit from it. We're seeing that benefit in our business with a new openness to change and a new openness to doing things differently in this very rapidly changing environment created by the 'fourth industrial revolution'.
Møller Centre becomes official home of James MacGregor Burns Academy of Leadership
The 25th anniversary launch also provided the platform to announce that the Møller Institute also is now the official home of the James MacGregor Burns Academy of Leadership which Sorenson founded at the University of Maryland, USA, in 1981.
Professor, the Lord Alderdice, former Speaker of the Northern Ireland Assembly, and a long-standing friend of the James MacGregor Burns Academy of Leadership, officially opened the Burns Academy of Leadership and Resource Hub which includes a library and space that will house the resources of the Academy. Lord Alderdice explained, "All of us, whether we had the good fortune to meet him, to know him or just to read him or to hear about him recognise what an extraordinary person James MacGregor Burns was. When I was asked to write a book chapter on 'Leadership out of Terrorism' I started by writing about Jim because in the things he said he spanned all the things you need to talk about when you talk abut leadership. I am honoured to open this Leadership Resource Hub and so pleased that the legacy and future work of the Academy will be developed here at the Møller Institute."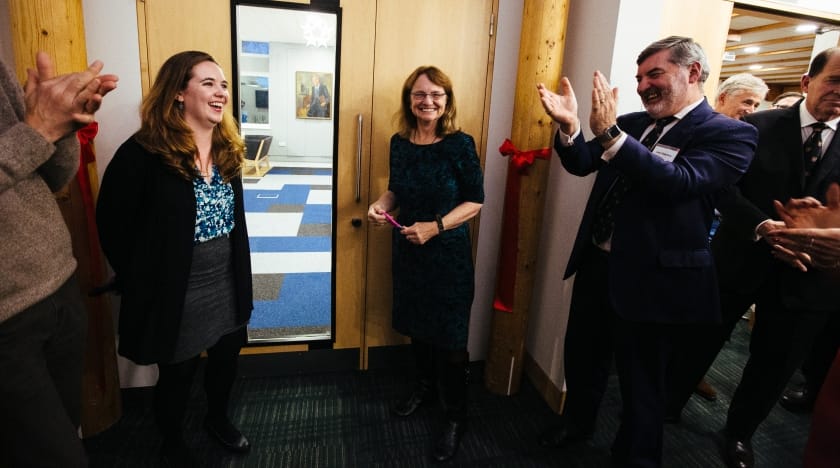 The Burns family and Professor Lord Alderdice open the James MacGregor Burns Resource Hub
Internationally recognised US Leadership Professor Professor Georgia Sorenson, founder of the James MacGregor Burns Academy of Leadership; co-founder of the International Leadership Association and Møller Leadership Scholar said, "We are pleased to place the legacy and future of the work of leadership scholar and political scientist James MacGregor Burns at with the Møller Institute at Churchill College. He loved the idea of bringing leadership studies to this esteemed institution and yes, he loved the idea of so many women leaders involved in our collaboration."
Gillian Secrett, former CEO of the Møller Institute added, "The knowledge, expertise and research base that the Academy brings to Cambridge, along with an active network of Academy alumni will underpin our strong focus on practical leadership development in the pedagogical design of our programmes. The link with the Academy will support our purpose of supporting leaders and aspiring leaders to excel and to maximise their effective impact on those with whom they engage, the organisations that they serve and society as a whole. My team have developed a very special leadership resource hub that will house the resources of the Academy and provide a space for associates, leadership scholars, executives and practitioners to study, research and develop further understanding on the subject of leadership and drive accelerated business performance in the challenging and uncertain business world we work in today."
James MacGregor Burns' daughter and granddaughter joined the celebrations and are delighted that the practical impact of Jim's work will be continued at Møller, daughter Deborah Burns said, "To see activists from US inner cities and business people using Jim's ideas and procedures to make change in their communities; to hear an MP from Northern Ireland recall that Jim's book on leadership was on the table when they began the peace process that resulted in reconciliation; to witness young women from Trump country learning how to speak to their own families and communities: these conversations and connections would have thrilled my father beyond measure."
Notes to Editors: The Danish-designed leadership development and conferencing centre was opened in October 1992 inspired by the connection between two leaders, Sir Winston Churchill, and Mærsk Mc-Kinney Møller, whose vision and benefaction has created a unique 'Centre for Excellence' that has brought together business and academia for the last 25 years, for executive education and as a host venue with expertise in supporting learning and development and conferencing.