Working together with the Social Committee and an idea put forward by Rebecca Boyd, we hosted a staff night out (but in) on Friday 11 November to raise money for our Charity of the Year, Arthur Rank Hospice.
It was 'eyes down' for a 'full house' and the team raised an impressive £300 for our nominated charity with a BINGO night. This was a fun way to spend the evening here at the Centre, being treated to some of our fantastic hospitality with friends and raising money for Arthur Rank Hospice.
A big thank you to the Møller Centre for allowing us to host the evening. Huge thanks to Darren, Jason, the F&B and Tech Team for support on the night, and especially to those who worked on the evening and could not attend.
A big thank you to Tracey Burt for supplying our Molton Brown star prize, which was won by Mark Campbell and to Thierry Hachin, who donated a bottle of champagne. This was used for a rather competitive and fun game that helped bring in an extra £50.
Whilst we missed having Becca do the bingo we were lucky enough to have 'Cornell's Calling' and Andy C did a pretty amazing job…keeping the night running to schedule and providing a heap of laughs.
Rebecca, Bonnie and myself worked hard on this event and we wanted to send a heartfelt thanks to everyone who joined in with this little bit of fun.
If anyone is interested in seeing the new hospice, please feel free to stop by. The Bistro is open to members of the public and they are hoping the space will have a community feel to it.
I'm sure you'll join me in wishing them all the best with the new facility. The team are all passionate about providing the right space for people with end of life requirements and have said how thrilled they are to have us on-board supporting them!
As the festive season is upon us, Arthur Rank have produced a varied range of Christmas cards which can be ordered from their website. The range features many designs and styles at affordable prices.
Recently we also held a very successful Celebration Evening on behalf of Arthur Rank, our nominated charity, here at the Centre on Wednesday 28 September. The team received very kind words from Donna Talbot, Director of Fundraising and Communication.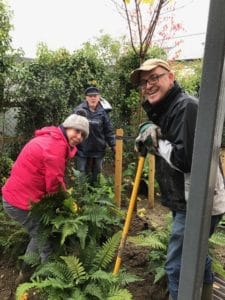 Stuart, Steph and myself had the chance to visit their new facility on Tuesday 1 November. We joined one of the orientation visits which gave the staff the chance to show off the fantastic building and some of what will be on offer. They have achieved something quite special and I came away feeling very humbled and inspired.
Also, on Wednesday 9 November eight team members headed down to the new hospice to help plant up what seemed like thousands of plants. Stuart, Darren, Nigel, Marilyn, Michelle, Kate, myself and Bruce all spent the day, out in the cold (but warm in our hearts) to help fill up the beds that surround some of the communal areas and individual bedrooms.
Each room has access to a patio, with doors wide enough for beds to be wheeled out, so all patients can be outside for fresh air. They also have a walled area for patients who may have dementia, meaning they are secure at all times.
Alex and the Kitchen Team provided us with a wonderful picnic lunch. It was commented on how well equipped we were and the tomato soup and delicious hot chocolate really hit the spot on a day where the weather could have, but didn't, spoil our fun!
Thomas Smith.