World-renowned cosmologist hails advances in neglected tropical diseases as "one of the most successful health initiatives of recent times"
The acclaimed physicist Professor Stephen Hawking highlighted the pioneering work of his father, Dr Frank Hawking, at an event to mark the one billionth treatment for neglected tropical diseases (NTDs) at the Møller Centre today (12 December).
Professor Hawking said: "Today we are here to celebrate delivering one billion treatments for NTDs – a monumental milestone few health programmes have achieved, both in terms of scale and level of success.
"Collaboration between partners across the world over the last five years has accelerated us closer to the elimination of NTDs than ever before, making it clear that this is one of the most successful health initiatives of recent times," he added.
NTDs are a group of painful and debilitating infections that affect about one in five people across the globe. They are most prevalent in developing countries and cause severe and lifelong physical impairment that can trap individuals, families and whole communities in a cycle of poverty and social isolation.
Professor Hawking's award-winning work in cosmology, black holes and the origin of the universe has brought him global attention. He uses this to talk about causes in which he believes, while continuing to do research, lecture publicly and to attend scientific conferences around the world.
Professor Hawking said: "My father's work into NTDs many years ago highlighted that this is an important area where we must be placing focus.
"The fact that these diseases are entirely preventable and treatable means that, in this day and age with the advances in health and science we know only too well, we should really be in a position to be saying goodbye to these horrible diseases of poverty once and for all."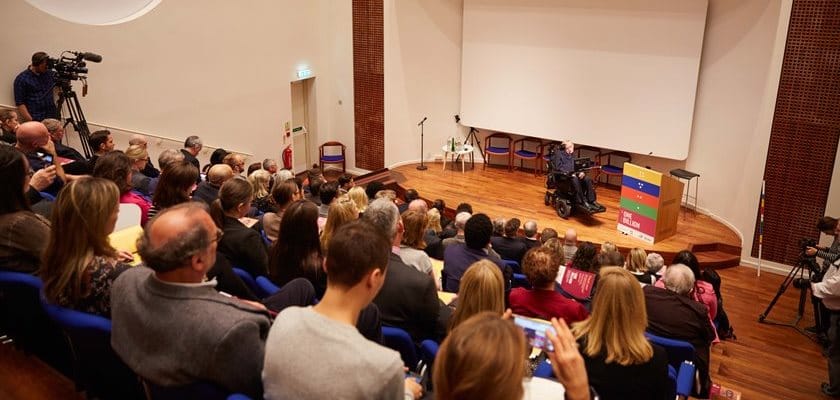 Photos courtesy Simon Way, www.simonway.co.uk
Back in the 1980's Professor Hawking's father, Frank, was one of the first people to conduct research into and develop treatment for an NTD known as lymphatic filariasis (LF). The preventative chemotherapy drug diethylcarbamazine, which was developed by Frank, is still widely used today.
Professor Hawking said: "We are now on the brink of elimination and I must commend the collaborations that have been formed across the world between governments, NGOs, communities and international organisations that have brought us to where we are today.
"This is truly an illustration of what can be achieved when we work together to change lives for the better," he added.
Professor Hawking was speaking at an event organised by UK charity Sightsavers, in celebration of their one billionth supported treatment to people affected by NTDs.
The UK government announced this year it will protect over 200 million people from the pain caused by treatable tropical diseases.
International Development Minister Lord Bates said: "These diseases affect the very poorest and most marginalised people in the world.
"Britain is leading the way by protecting millions of lives from being blighted by them, one example is how UK aid is helping to eradicate Guinea Worm globally.
"Investing in NGOs, pharma companies and our world-class universities and researchers will help end these diseases which belong in the last century."
Dr Caroline Harper, Sightsavers CEO, said: "Delivering one billion NTD treatments would not have been possible without the support of our many partners around the world – from individual donors, government ministries, trusts and foundations, to corporate partners and fellow NGOs, each and every one of them has helped us make an enormous impact on the people that our programmes reach.
"We must redouble our efforts and at all costs avoid any sense of complacency at this crucial time. Eliminating these diseases once and for all is our goal, but there is still a way to go before we are able to do this."
For more information contact
Josie Wolstenholme, Senior Media and PR Officer, Sightsavers:
01444 446655 / 07961 898762 / [email protected]
———————–
Paul Hebden, Head of Media, Sightsavers
01444 446613 / 07413 729 505 / [email protected]
Notes to Editors
About the one billionth celebrations
The one billionth treatment was administered by UK-based charity Sightsavers in Nigeria [Attn. Picture editors: video, stills and case study content available on request].
The one billionth milestone celebrates the one billion drug treatments Sightsavers and partners, including UK aid and the Queen Elizabeth Diamond Jubilee Trust, have given to individuals and whole communities at risk of NTDs. NTDs can be treated in several ways, through a combination of drugs, surgery and hygiene behavioural change programmes.
The event will also include an address from HRH Princess Alexandra, who is President of Sightsavers, Lord Bates, Minister of State at the Department for International Development and Professor Isaac. F. Adewole, Honourable Minister of Health, Nigeria Federal Ministry of Health.
The one billionth celebrations are sponsored by pharmaceutical partners Merck and Pfizer, who have also donated the drugs needed to reach communities who are at risk of NTDs. The event is being hosted by The Møller Centre, Churchill College, Cambridge.
About Sightsavers
Sightsavers is an international organisation that works in more than 30 developing countries to prevent blindness, restore sight and advocate for social inclusion and equal rights for people with disabilities. It is a registered UK charity (Registered charity numbers 207544 and SC038110) www.sightsavers.org
There are 36 million blind people in the world; 75% of all blindness can be prevented or cured.
In the six decades since its foundation, Sightsavers has:
We will have supported over one billion treatments for neglected tropical diseases by the end of 2017.
Carried out over 9.39 million operations to restore sight
Provided 522,000 training sessions for primary eye care workers
Provided 210,889 training sessions for blind, low vision or other disabled beneficiaries
Supported many thousands of children to gain a school education, with 5,162 children receiving support in 2016
About UK aid
The UK government is helping to lead the way in fighting NTDs and will protect over 200 million people from NTDs over the next 5 years.
In total, UK aid has supported in excess of 250 million treatments (equivalent to a quarter of a billion) which protect people from the pain caused by NTDs.
Between now and 2022, the UK's total support package will:
Wipe out Guinea worm, which is transmitted through dirty water
Eliminate visceral leishmaniasis in Asia, a parasitic disease caused by infected sand-flies which destroy the internal organs
Prevent up to 400,000 cases of blindness caused by trachoma, the leading cause of infectious blindness in the world
Prevent tens of thousands of cases of disability caused by lymphatic filariasis, a mosquito-transmitted disease which can cause severe swelling of the lower limbs