The next Møller HRD Forum will be on 14 December as part of the Power of Purpose Symposium – details here.
Møller HRD Forum: Approaches to Leadership Development
'If you want one year of prosperity grow grain, if you want ten years of prosperity grow trees, but if you want 100 years of prosperity grow people.' Chinese Proverb.
This is an invitation only Forum developed by the Møller Institute team at Churchill College, University of Cambridge, for a select group of HR Directors and, facilitated by Møller Institute leadership development specialists to discuss approaches to the development of leaders within their businesses and organisations.
We explore new and current approaches, best practice, the typical challenges we face and how we can best design and deliver high impact programmes and interventions that will bring about real change and demonstrate a return on investment for the business.
We plan a series of interesting discussions, inform each other around what works and what doesn't – and participants will leave with some new connections and sources of help and some good ideas to take forward into our future work. All events take place at the Møller Centre, Churchill College in the University of Cambridge.
Previous forums have focused on employee engagement, happiness, viral change and mindfulness.
The HR Forum takes place in the Study Centre at the Møller Centre, Storey's Way, Cambridge, CB3 0DS.
Previous Fora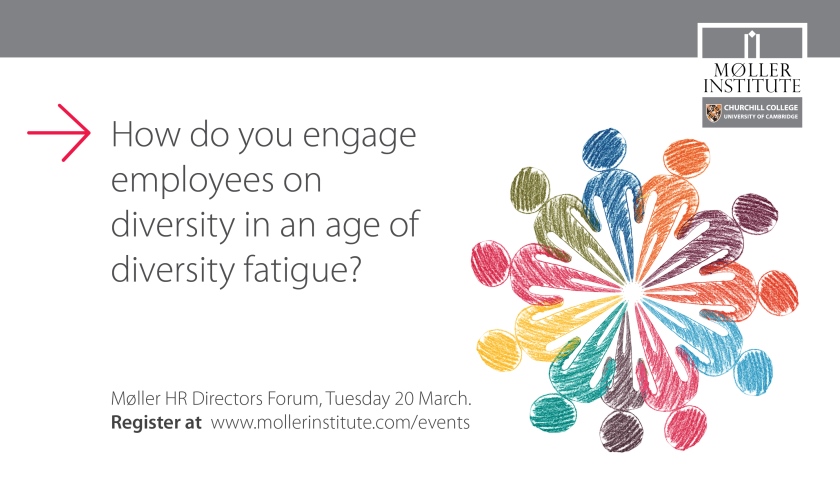 HRD Forum indicative outline (note Sat Nav friendly postcode – CB3 0DS)
09:30 – Registration and networking – Study Centre
10:00 – Introduction and Welcome – Gillian Secrett, CEO Møller Institute
10.10 – Session 1
11:00 – Break
11.15 – Session 2
12:30 – Lunch (Møller Centre Main Building, Restaurant)
13:15 – Session 3
14:55 – Conclusions – Ruth Berry
15:00 – Event close