With fast-paced lives, eating can often feel purely functional but off-site meeting organisers are reminded how they can seriously improve team bonding with food.
The new and fresh surroundings of an off-site venue help promote concentration and productivity during working sessions, and they can also encourage delegates to relax while they eat. This facilitates team building on a more personal level.
Inspiring creativity and engagement doesn't have to stop when your presentation or meeting ends; in fact, the last thing event organisers want is for delegates to simply repeat their usual lunchtime routine of grabbing something quick and returning straight to their desks.
Breaking bread
During the regular, high-pressure working environment it can be difficult for colleagues to bond properly with one another. By removing the professional constraints, eating together can help people get to know one another on a more social, informal level.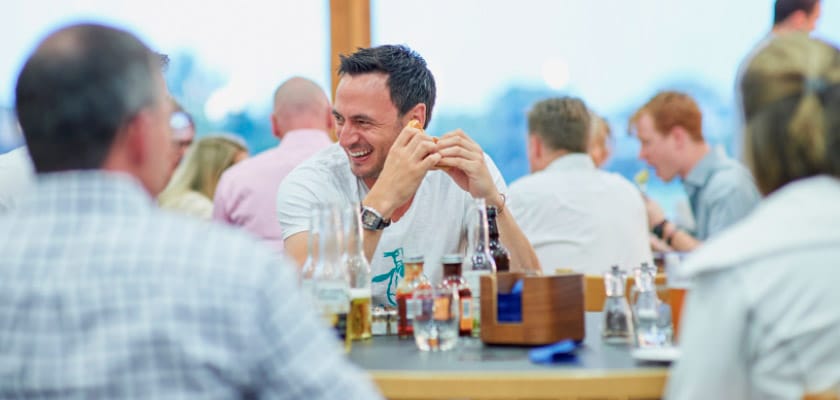 The positive effect of eating together is thought to be true of more sedate professions too. Research suggests that eating socially triggers the endorphin system in the brain, releasing an opiate-like chemical. Besides making you happier, this opiate release also boosts the immune system and can help make us more resistant to diseases.
A Cornell University study found that fire crews that ate together performed better than those that didn't because sharing meals promotes collaboration in other areas and thus strengthens teamwork.
Food intrigue and delight
Besides simply eating together, the type of food on offer can also promote a greater team bonding experience.
Getting to try food from far off places creates intrigue, a focal talking point and provides the opportunity for delegates to have a shared experience that can improve their relationships with colleagues.
Whether it's Spanish paella, Japanese zaru soba mentsuyu, or Brazilian 'moqueca' fish stew, the Møller Institute's Executive Chef Alex Bigot and his team can produce cuisine from around the globe to provide delegates with a true dining experience.
With its own kitchen garden and focus on sourcing sustainable produce, the Møller Institute also celebrates the best dishes Britain has to offer using the freshest seasonal ingredients.
BBQs, blankets or bowls
Removing the formality of the office is a key factor that can make an off-site event both valuable and memorable to all participants. The style of dining – especially informal experiences that never occur in the office – can be a really great way to improve team building with food.
Networking sessions can feel more relaxed if easily consumed food is served in small bowl portions, providing a talking point for delegates and also keeping energy levels up after the working day.
Alternatively, to help truly develop social relationships with and between your employees, a more casual dining experience such as a BBQ or a picnic can help delegates relax by giving them a proper break and helping them rediscover the value of taking time out with colleagues.
As part of a Brain Food series, you can also read insights about brain food for effective meetings and the best meeting snacks.